This book is a finalist for the Junior NZ book awards. In my opinion there are some older themes and the book would be more suited to 10+. I enjoyed the book which will appeal to those readers that like a survival theme in their stories. It is an intense and fast paced adventure. Recommended.
From the author of the multi-award-winning and bestselling
How to Bee
comes an intense and thrilling new adventure.
'We're gonna starve if we stay here,' Emery said. 'If we're gonna go, best go now.'
And he said it like going was something easy. Like all we have to do is walk away.

Ella and her brother Emery are alone in a city that's starving to death. If they are going to survive, they must get away, upcountry, to find Emery's mum. But how can two kids travel such big distances across a dry, barren, and dangerous landscape? Well, when you've got five big doggos and a dry-land dogsled, the answer is you go mushing. But when Emery is injured, Ella must find a way to navigate them through rough terrain, and even rougher encounters with desperate people...from Allenandunwin.co.nz
Loved this book. Recommend to all from 8 upwards. Kids v evil magician.
Join Alex in an incredible adventure of secrets, magic and genies from author of THE ICE GARDEN Guy Jones. Alex loves magic tricks - and he's good at them, too. But when he stumbles into eccentric Mr Olmos's back garden, he sees a kind of magic he can't explain: three tiny flames floating in the air. Soon, Alex and Mr Olmos are swept up in a great adventure of secrets, genies and an ancient, bitter rivalry ...from Wheelers.books nz
I enjoyed this book. The mystery was keep well hidden until towards the end. For those that like magic in books.
Seth is the oppressed kitchen boy at the remote Last Chance Hotel, owned by the nasty Bunn family. His only friend is his black cat, Nightshade. But when a strange gathering of magicians arrives for dinner, kindly Dr Thallomius is poisoned by Seth's special dessert. A locked-room murder investigation ensues - and Seth is the main suspect. The funny thing is, he's innocent . can he solve the mystery and clear his name, especially when magic's afoot? from Wheelers books nz
A good book with modern situation of blended families with a dash of magic. I enjoyed this book.
Emma and Pip cannot seem to get along. This shouldn't be a problem, and it wouldn't be a problem-if it weren't for the fact that Emma's Dad is getting married to Pip's Mum! For Dad's sake, Emma tries to keep the peace, until a book of spells and wishes finds its way into the household, and she accidentally becomes a witch in a secret ceremony intended to impart magical powers to Pip. Emma is horrified. She never wanted to be a witch, and there seem to be a lot of difficult responsibilities attached to the job. Pip and Emma find themselves working together to reverse the effects of the spell, but nothing they can come up which offers a solution to their problem. But now Emma has an advantage over Pip, and maybe it would be fun to put it to good use...from Wheelers books nz
This book was recommended to me by a student. What a fantastic read! For the lovers of the Land of Stories and the Rondo trilogy. I The main character lives in a wonderful multi storied old book shop full of nooks and crannies with her Grandparents. Her mother disappeared and her father died when she was a baby. It turns out Tilly has the inherited gift of book wandering. She can wander into her favourite books. Book 2 comes out later in the year. Recommended.
I enjoyed this book, it had magic, friendship, adventure, mystery and fun. It was well written and flowed well and was easy to read. I brave main character.
Penelope lives with her mother – her father died years ago. She has always been different from other children: for example, her hair has been grey since she was born. But one day, Penelope wakes up with sparkling red hair and her mother confesses the truth: her father is not only still alive, he's a wizard. Penelope has inherited his powers, and embarks on a journey to find him …
from Chicken House Publishing
Book 1 of 3
The Dragon Defender series is written by New Zealand author James Russell. The series starts with two brothers aged 10 and 12 years old. They live with their Mum, Dad and little sister 500 miles away from the mainland on an island. They live a wonderful life full of adventure, hunting, freedom and fun. Then an evil man called Pitball discovers there are dragons on the island and he wants an egg so it can hatch in his private zoo full of dangerous animals. He also wants to kill a dragon and have it stuffed to have in his house. Will the boys defeat the evil boss or not. Read to see. A enjoyed this fun and uncomplicated book full of adventure.
The Dragon Brothers Books all have AR (augmented reality) content in them. Download the app from the Dragon Defenders website and use a smartphone to bring the book alive.
The Septimus Heap series 7 books in total.
I got completely sucked into the story, characters and world of Septimus Heap. If you like fantasy books you will love this series. The first book was published 2015 and the last 2013.
The series follows the adventures of Septimus Heap who, as a seventh son of a seventh son, he has amazing magical powers. After he becomes apprentice to the Extraordinary wizard of the series, Marcia Overstrand, he must study for seven years and a day.
The first part of an enthralling new series leads readers on a fantastic journey filled with quirky characters, clever charms, potions and spells. Ages 9+.

The 7th son of the 7th son, aptly named Septimus Heap, is stolen the night he is born by a midwife who pronounces him dead. That same night, the baby's father, Silas Heap, comes across a bundle in the snow containing a newborn girl with violet eyes. The Heaps take this helpless newborn into their home, name her Jenna, and raise her as their own. But who is this mysterious baby girl, and what really happened to their beloved son, Septimus?


From Goodreads.com
You must read book 1 before you read book 2. The author is planning on writing 9 books in this series. Bring it on. LOVED IT!
Wunder is gathering in Nevermoor ...
Morrigan Crow may have defeated her deadly curse, passed the dangerous trials and joined the mystical Wundrous Society, but her journey into Nevermoor and all its secrets has only just begun. And she is fast learning that not all magic is used for good.
Return to the magical world of Nevermoor! Morrigan Crow's perilous adventures continue in the most anticipated sequel of the year, a treat for all fans of magic and Wunder.
Morrigan Crow has escaped her deadly fate and found a new home in the fantastical city of Nevermoor. She has also discovered that she has a strange and magical ability. But will her unique talent be a blessing or another curse?
Now that Morrigan and her best friend Hawthorne are proud scholars in the elite Wundrous Society, she is sure that she's found a place to belong at last, but life is far from perfect. Can Morrigan prove that she deserves to be in the Society - or will an unexpected new enemy ruin her new life?...from Hatchette website
It has been called New Zealand's Hatchet. The story is about teenage cousins who are shipwrecked on the West Coast of New Zealand and the book tells of their survival. There is a lot of te reo in the book and the glossary in the back was well used by myself. This is because it is not everyday te reo words that were used. An adventurous survival book that looks at how we view our culture, traditions and family history.
A gripping and personal story about one girl's experience of the 2011 Christchurch earthquake and its aftermath.
Lyla has just started her second year of high school when a magnitude 6.3 earthquake shakes Christchurch to pieces. Devastation is everywhere. While her police officer mother and trauma nurse father respond to the disaster, Lyla puts on a brave face, opening their home to neighbours and leading the community clean-up. But soon she discovers that it's not only familiar buildings and landscapes that have vanished - it's friends and acquaintances too. As the earth keeps shaking day after day, can Lyla find a way to cope with her new reality? ...from publisher Allen and Unwin
This book takes you to the heart of Christchurch during and after the earthquakes. Sometimes sad, sometimes funny always enlightening. Although Lyla is 13 years old the book is still great for children 8 and older. Loved it. For those that enjoy My Story fractions.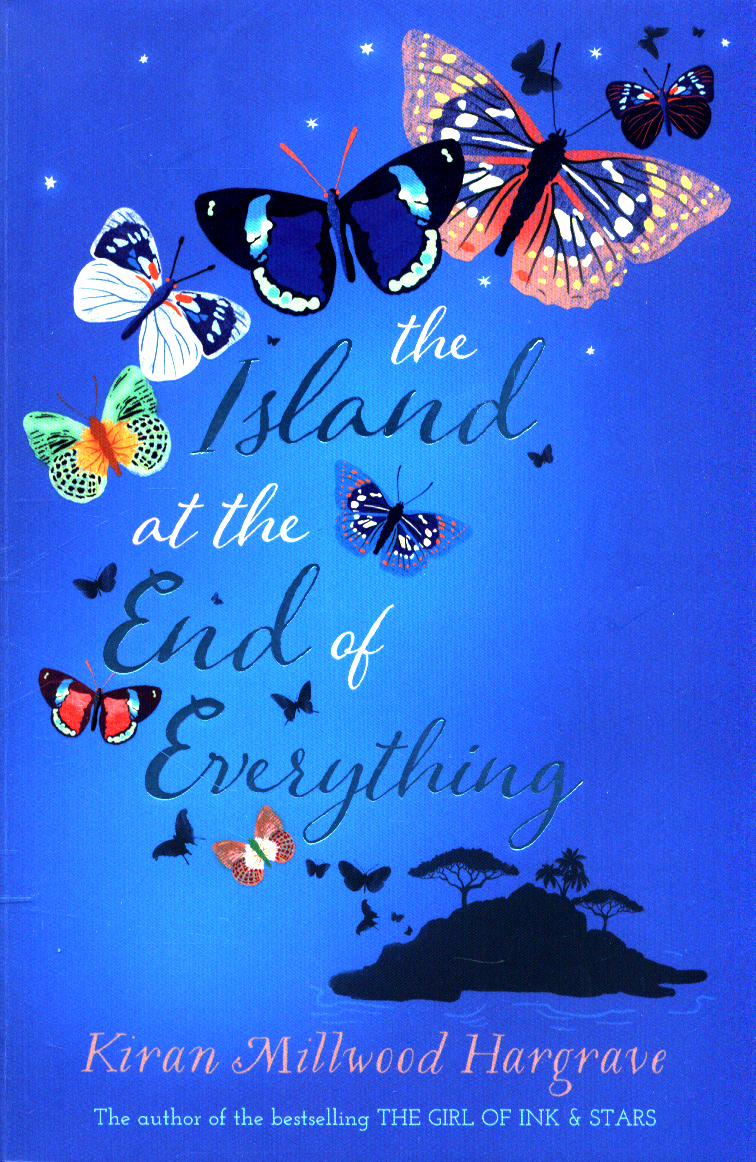 There are some places you would not want to go. Even if I told you that we have oceans filled with sea turtles and dolphins, or forests lush with parrots that call through air thick with warmth... Nobody comes here because they want to.
The island of no return.
Ami lives with her mother on an island where the sea is as blue as the sky. It's all she knows and loves, but the arrival of malicious government official Mr Zamora changes her world forever: her island is to be made into a colony for lepers. Taken from her mother and banished across the sea, Ami faces an uncertain future in an orphanage. There she meets a honey-eyed girl named for butterflies, and together they discover a secret that will lead her on an adventure home. Ami must go back to the island of no return, but will she make it in time?....from Goodreads.com
A story with a strong and loyal girl as the main character who has much to deal with. She is not always treated kindly but has a wonderful innocence and resilience. The story has sad bits, funny parts and at times can be confronting. For year 6 and older....Mrs Kewish
A finalist of the New Zealand Children's Book Awards
Sometimes bees get too big to be up in the branches, sometimes they fall and break their bones. This week both happened and Foreman said, 'Tomorrow we'll find two new bees.'
Peony lives with her sister and grandfather on a fruit farm outside the city. In a world where real bees are extinct, the quickest, bravest kids climb the fruit trees and pollinate the flowers by hand. All Peony really wants is to be a bee. Life on the farm is a scrabble, but there is enough to eat and a place to sleep, and there is love. Then Peony's mother arrives to take her away from everything she has ever known, and all Peony's grit and quick thinking might not be enough to keep her safe
.
How To Bee
is a beautiful and fierce novel for younger readers, and the voice of Peony will stay with you long after you read the last page.......
Google books
I loved this book, a lovely read with believable characters.
Eleven-year-old Jonquil (known as Quil) Medway is a girl with more than an unusual name. Quil's parents died in a car accident when she was a baby and she now goes to boarding school, but spends her holidays with an aunt - or at camp, which is where Quil is heading when she decides to get off early at a train stop called Hoopers Bend. It is there that Quil meets Pirate, a chunky little white dog with black spots who immediately adopts her and Bailey, a crabby older lady who has gone to Hoopers Bend to check out the shop that has been left to her by an uncle. There is something magical about the shop at Hoopers Bend though, and once it casts its spell on Quil and Bailey they are drawn together in an unlikely friendship and their fight to save the shop from developers
....
Google books
Winner of the Newbery Medal A charming, intriguingly plotted novel. -Washington Post Newbery Medalist Erin Entrada Kelly's Hello, Universe is a funny and poignant neighborhood story about unexpected friendships. Told from four intertwining points of view-two boys and two girls-the novel celebrates bravery, being different, and finding your inner bayani (hero). Readers will be instantly engrossed in this relatable neighborhood adventure and its eclectic cast of misfits. -Booklist In one day, four lives weave together in unexpected ways. Virgil Salinas is shy and kindhearted and feels out of place in his crazy-about-sports family. Valencia Somerset, who is deaf, is smart, brave, and secretly lonely, and she loves everything about nature. Kaori Tanaka is a self-proclaimed psychic, whose little sister, Gen, is always following her around. And Chet Bullens wishes the weird kids would just stop being so different so he can concentrate on basketball. They aren't friends, at least not until Chet pulls a prank that traps Virgil and his pet guinea pig at the bottom of a well. This disaster leads Kaori, Gen, and Valencia on an epic quest to find missing Virgil. Through luck, smarts, bravery, and a little help from the universe, a rescue is performed, a bully is put in his place, and friendship blooms. The acclaimed and award-winning author of Blackbird Fly and The Land of Forgotten Girls writes with an authentic, humorous, and irresistible tween voice that will appeal to fans of Thanhha Lai and Rita Williams-Garcia. Readers across the board will flock to this book that has something for nearly everyone-humor, bullying, self-acceptance, cross-generational relationships, and a smartly fateful ending. -School Library Journal
A very funny award winning book. Lucus Weed aka Undie Man becomes famous at his new school while trying to make new friends by doing many funny pranks. One includes wearing red undies on school athletes day. The winner of the Tom Fitzgibbon award. Written by NZ author Chrissie Walker. Easy to read with an easy to read font.
An oldie but a goodie. Written in 1962. A Wrinkle in Time

is the winner of the 1963 Newbery Medal.

A movie is just about to be released. Try reading the book before you see the movie.
It was a dark and stormy night; Meg Murry, her small brother Charles Wallace, and her mother had come down to the kitchen for a midnight snack when they were upset by the arrival of a most disturbing stranger.
"Wild nights are my glory," the unearthly stranger told them. "I just got caught in a downdraft and blown off course. Let me sit down for a moment, and then I'll be on my way. Speaking of ways, by the way, there is such a thing as a tesseract."
A tesseract (in case the reader doesn't know) is a wrinkle in time. To tell more would rob the reader of the enjoyment of Miss L'Engle's unusual book. A Wrinkle in Time, winner of the Newbery Medal in 1963, is the story of the adventures in space and time of Meg, Charles Wallace, and Calvin O'Keefe (athlete, student, and one of the most popular boys in high school). They are in search of Meg's father, a scientist who disappeared while engaged in secret work for the government on the tesseract problem.....from Amazon
"The Girl Who Drank the Moon" is as exciting and layered as classics like "Peter Pan" or "The Wizard of Oz." It too is about what it means to grow up and find where we belong. The young reader who devours it now just for fun will remember its lessons for years to come....from New York Times book review
A fun adventure with talking animals, baddies, mystery and magic. I enjoyed this story that took me on a journey of good verses the not so good.

Come now or come never! The invitation was delivered by bees. It wasn't addressed to anyone at all but Ben knew it was for him. It would lead him to an old, shambolic, museum, full of strange and bewitching creatures. It would lead him to curious family secrets, and mysteries - and some really quite dangerous magic. The stunning debut novel from twice Kate Greenaway medal-winning Helen Cooper.....

from Wheelers
Four Christmases have passed since the world went to war in 1914. Struggling to survive in the trenches, close to enemy
lines, amid the terror of gunfire and the whine of warplanes, Kiwi soldier Henry Hunt rescues a shaken little dog. He has
no idea he'll soon be facing a disciplinary hearing. To Henry's relief, the Major allows the little foxie to live this time.
Henry finds the dog is not only a comfort to his fellow soldiers on the battlefields of France, but a great ratter, too.
Together, can they survive the Great War?....from Scholastic School Essentials
Like many 13-year-old girls, Sofia's main worries are how to get some groovy go-go boots, and how not to die of embarrassment giving a speech at school!

But when her older brother Lenny starts talking about marches and protests and over stayers, and how Pacific Islanders are being bullied by the police for their passports and papers, a shadow is cast over Sofia's sunny teenage days. Through her heartfelt diary entries, we witness the terror of being dawn-raided and gain an insight into the courageous and tireless work of the Polynesian Panthers in the 1970's as they encourage immigrant families across New Zealand to stand up for their rights. ....Scholastic website

I was just a child in the 1970's so I didn't know much about the dawn raids and the Polynesian Panthers but after reading this book I feel I know more about what when on at the time. A great read.
A stunning new classic from master storyteller Michael Morpurgo for readers of 9 and up, in the vein of
Private Peaceful
and
The Butterfly Lion
.
In the South of France during WW2, a young autistic boy lives on his parents' farm, among the salt flats and the flamingos, in the unique landscape of the Camargue. There are lots of things he doesn't understand: but he does know how to heal animals. He loves routine, and music too, and every week he goes to market with his mother, to ride his special horse on the town carousel.
But then the Germans come, with their guns, and take the town. A soldier shoots a flamingo from the sky, and it falls to earth terribly injured. And even worse is to come: the carousel is damaged, the horses broken. For this vulnerable boy, everything is falling apart. Only there's a kind sergeant among the Germans–a man with a young boy of his own at home, a man who trained as a carpenter. Between them, perhaps boy and man can mend what has been broken–and maybe even the whole town... Scholastic website
Wow. What an amazing book. You read this sophisticated picture book from front to back for one point of view and then from back to front for another point of view. Very clever. A smart and wonderful book. Loved by all the children and adults that I have read it to.
LOVED IT! |
This is the first of a trilogy. I will be watching out for the 2nd book. Morrigan Crow is cursed. Born on an unlucky day, she is blamed for all local misfortunes, from hailstorms to heart attacks - and, worst of all, the curse means that Morrigan is doomed to die at midnight on Eventide.
But as Morrigan awaits her fate, a strange and remarkable man named Jupiter North appears. Chased by black-smoke hounds and shadowy hunters on horseback, he whisks her away into the safety of a secret, magical city called Nevermoor.
It's there that Morrigan discovers Jupiter has chosen her to contend for a place in the city's most prestigious organisation: the Wundrous Society. In order to join, she must compete in four difficult and dangerous trials against hundreds of other children, each boasting an extraordinary talent that sets them apart. Except for Morrigan, who doesn't seem to have any special talent at all.
To stay in the safety of Nevermoor for good, Morrigan will need to find a way to pass the tests - or she'll have to leave the city to confront her deadly fate.
Longlisted for the ABIA Awards.
Shortlisted for the Indie Book Awards.
A CBCA Notable book.
Shortlisted for the Readings Children's Book Prize.
Shortlisted for the Waterstones Children's book Prize (UK).
Praise for Nevermoor: The Trials of Morrigan Crow:
'Unexpected, exciting and funny. Like Alice in Wonderland, Harry Potter and Doctor Who swirled up together. I loved Morrigan Crow, and I want to check in at the Hotel Deucalion.' - Judith Rossell, ABIA Award-winning author of Withering-by-Sea
'Jessica Townsend's Nevermoor: The Trials of Morrigan Crow is more than just a spectacular debut. Exciting, charming, and wonderfully imagined, it's the sort of delightful, grand adventure destined to be many a reader's favourite book.' - Trenton Lee Stewart, New York Times bestselling author of The Mysterious Benedict Society series andThe Secret Keepers
'Queensland author Jessica Townsend's debut is an exciting and charming middle-grade read that will hook readers aged 10 and up with intricate imaginative detail and its sheer energy ... a compulsively readable romp that fans of 'Harry Potter', Terry Pratchett or Studio Ghibli will gobble up.' - Books and Publishing
'Readers, like Morrigan herself, will feel at home in this evocative novel where magic and confidence go hand in hand. An excellent and exciting work.' - School Library Journal
'Readers will feel as though Harry Potter is meeting Alice in Wonderland.' - Kirkus
'Exciting, mysterious, marvellous and magical ... quite simply one of the best children's books I've read in years.' - Robin Stevens, author of Murder Most Unladylike
from Hachette website
Another super funny book from David Walliams.
"Bad Dad is about a boy called Frank whose Dad is thrown into prison for driving the getaway car in a bank robbery. Frank hatches a daring plan to break his father out of prison for the night so they can put the stolen money back. But will the evil crime boss Mr Big stop them?"..............David Walliams
I can't believe I have never read this book.I thought it was about time because the movie is being made by Peter Jackson. It is a steam punk adventure. Set in the future. The first of 7 books in the series.
London is a city on wheels - a future city like you've never known before. In the terrible aftermath of the Sixty Minute War, cities which survived the apocalypse became predators, chasing and feeding on smaller towns. Now London is hunting down its prey, getting ready to feed. But as the chase begins, Tom uncovers a secret - a secret full of deadly consequences. Soon he is plunged into a world of unkillable enemies, threatened by a weapon that will tear his life apart... Winner of the Nestle Gold Award and the Blue Peter Book of the Year Award, this is a book to devour again and again...Amazon website
Here's